8079 Muft Atta Registration Scheme-8070 Free Atta Online Apply SMS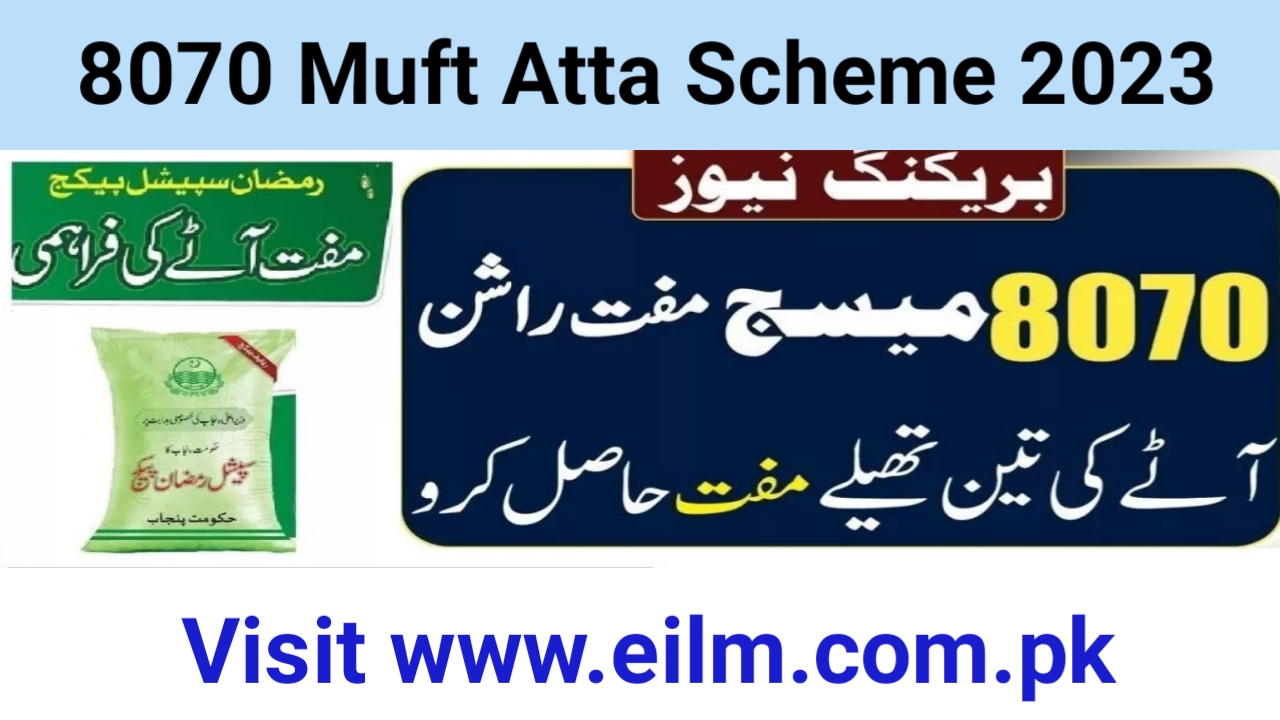 Punjab Government has announced free atta 8070 scheme of Rs 65 billion rupess to provide free atta to underprivileged people of Punjab.This scheme aim to help lower income class people and all citizen of Punjab whose income is less than 60 thousand per month can avail this offer.To apply for free atta scheme send your cnic number to 8070 to get registered for free atta scheme.
This step has been by caretaker CM Punjab to help the people to eat two times without any difficulty. The government aims to allocate a subsidy of a considerable amount to provide free atta to millions of people who are facing economic challenges due to the high petrol and dollar rates in Pakistan.So send your cnic number to 8070 to confirm your name status for free atta programm.
پنجاب حکومت نے پنجاب کے پسماندہ لوگوں کو مفت آٹا فراہم کرنے کے لیے 65 ارب روپے کی مفت آٹا 8070 سکیم کا اعلان کیا ہے۔ اس سکیم کا مقصد کم آمدنی والے طبقے اور پنجاب کے تمام شہری جن کی آمدنی 60 ہزار ماہانہ سے کم ہے، اس آفر سے فائدہ اٹھا سکتے ہیں۔ مفت آٹا سکیم کے لیے اپلائی کرنے کے لیے اپنا cnic نمبر 8070 پر بھیجیں تاکہ مفت آٹا سکیم کے لیے رجسٹریشن کروائیں۔ نگران وزیراعلیٰ پنجاب کی جانب سے یہ قدم عوام کو بغیر کسی مشکل کے دو وقت کا کھانا کھانے کے لیے اٹھایا گیا ہے۔ حکومت کا مقصد ان لاکھوں لوگوں کو مفت آٹا فراہم کرنے کے لیے کافی رقم کی سبسڈی مختص کرنا ہے جو پاکستان میں پیٹرول اور ڈالر کی اونچی قیمتوں کی وجہ سے معاشی چیلنجز کا سامنا کر رہے ہیں۔ اس لیے مفت آٹے کے لیے اپنے نام کی حیثیت کی تصدیق کے لیے اپنا شناختی کارڈ نمبر 8070 پر بھیجیں۔ پروگرام
8070 Free Atta Web Portal Login
The Punjab government has now started registration process for Muft Attta Scheme.But so far no mechanism has been devised that how the free atta will be distributed among poor people.The government is planning to launch a separate 8070 web portal for muft atta registration.Once the portal is activated than candidates will have to register on 8070 web portal.So far now all punjab citizen have to just send their cnic number to 8070 and wait for confirmation message.If they will be eligible for free atta programm than that family will receive 3 Atta bags each comprise of 10 Kg each.
8070 Free atta Web Portal 2023
The Pakistani government is set to launch the "Free Atta 8070 web portal" in the near future, but it has not yet been released. It is recommended to stay informed on the upcoming launch of the "Free Atta Registered App 2023" to ensure timely access to the app. However, it is important to note that the registration process for the "Free Atta Scheme 2023" does not require the use of the app at this time. To register, simply send a text message containing the word "atta" along with a valid CNIC to 8070, and your registration for the "Free Atta Scheme 2023" will be complete.
Online Registration 8070 Free Atta Scheme Method
To register for the Free Atta Scheme 2023 in Pakistan, aspirants need a PTA registered mobile phone and a valid CNIC.
Aspirants should open the SMS app on their mobile phone and type "ATTA" with a space followed by their Computerized CNIC number.
After entering the CNIC number, they should send this message to 8070.
Once the registration process is completed, aspirants will receive a confirmation message on their mobile phone from the Free Atta Online Registration Scheme 2023.