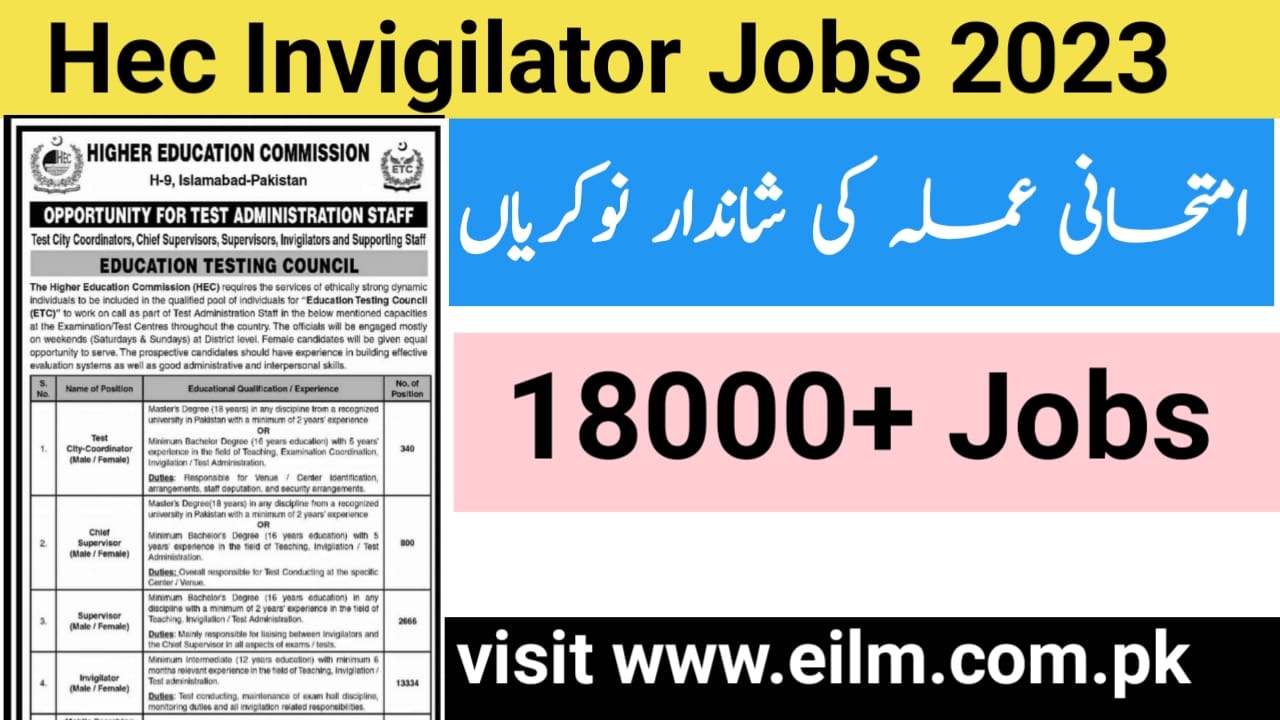 HEC 18000 ETC Invigilator Jobs 2023 | Apply via www.etc.hec.gov.pk
The Higher Education Commission has unveiled 18,000 HEC Invigilator positions for 2023, available to candidates across Pakistan. Aspiring individuals are required to submit their applications online for ETC Invigilator staff roles through the website www.etc.hec.gov.pk. The Higher Education Commission is dedicated to enhancing its test administration team, hence the announcement of 18,000 new job openings in test administration staff. These newly available ETC test staff positions encompass roles such as Test Coordinator, Chief Supervisor, Supervisor, Invigilator, and Mobile Searching Staff.
The application deadline for HEC ETC jobs is 4:00 PM on November 13, 2023.
HEC ETC Test Staff Jobs 2023 Online Apply Method Via www.etc.hec.gov.pk
To apply for the HEC test administration staff positions, please follow these steps:
Visit the HEC career opportunities web portal at www.etc.hec.gov.pk.
If you haven't previously applied for a job on the HEC portal, click on the "Sign up" option.
Create your account on the HEC ETC website by providing your name, CNIC, and email details.
Once registered, click 'Login' and complete your HEC ETC profile by providing all the required information.
Fill in your academic, experience, and personal details to complete your HEC ETC online profile.
Upload your CV in PDF format; there's no need to send a hard copy
Once your online profile is complete, click on the "Submit" button to successfully submit your application for HEC ETC test administration staff jobs.
In the final step, download the fee deposit slip and submit the Rs 1,200 test fee through a 1 Link 1 Bill invoice.
For any issues or updates related to HEC ETC staff jobs, please visit www.etc.hec.gov.pk or contact HEC help portal at www.onlinehelp.hec.gov.pk.
Remember, the application deadline for HEC Etc test staff jobs is November 13, 2023.
Apply now and become a part of the HEC's test administration team!
HEC 18000 ETC Invigilator Jobs Advertisement