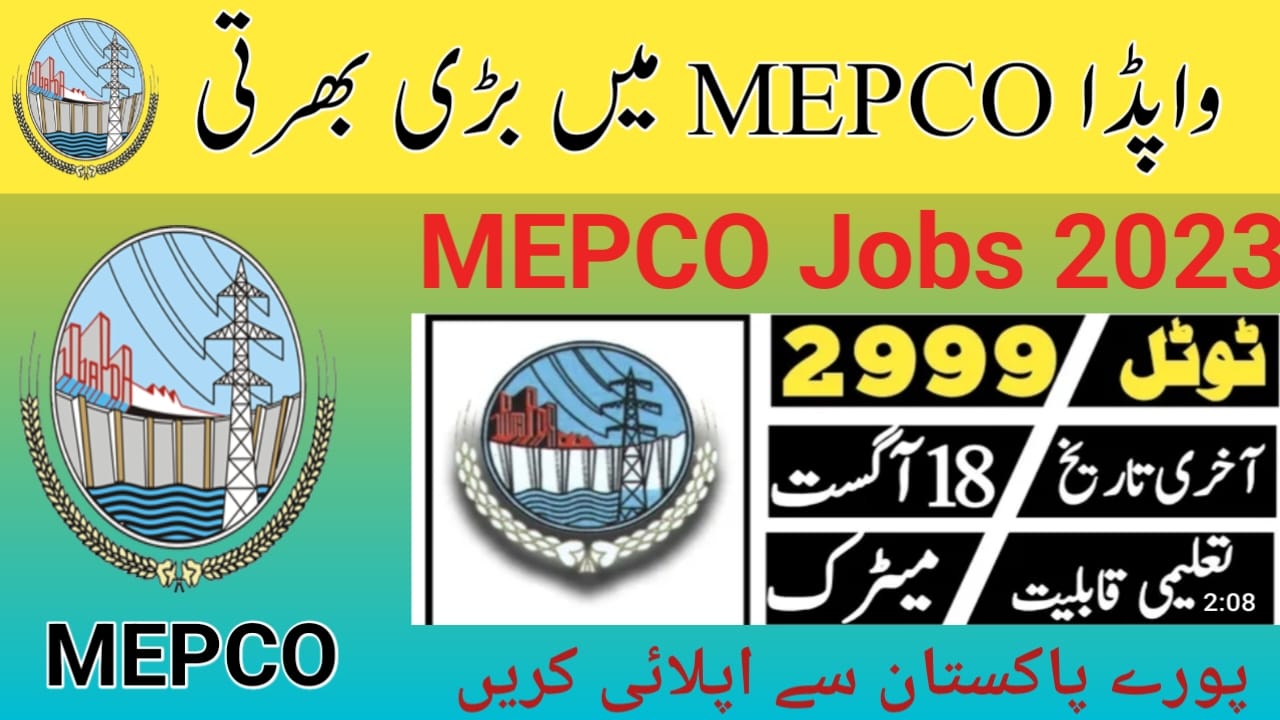 MEPCO Jobs Online Apply 2023 | Multan Electric Power Company| Latest Jobs
MEPCO Jobs Online Apply 2023 | Multan Electric Power Company| Latest Jobs, Multan Electric Power Company (MEPCO) has recently announced job openings for the year 2023. To apply for these positions, interested applicants must utilize the convenient online application process accessible through the National Testing Procurement Commission (NTPCPK) website at www.ntpcpk.org.
It's important to note that the NTPCPK is a credible NGO organization headquartered in Islamabad. Nevertheless, due to some concerns expressed by individuals, it is advisable for applicants to verify the authenticity of the advertised jobs before proceeding with their online application fee. Detailed information regarding the online application form and fee structure for MEPCO Jobs 2023 can be found on the official NTPCPK website at www.ntpcpk.org.
Take the opportunity to explore these promising job openings and follow the secure and user-friendly application process to be a part of the MEPCO team. Ensure to confirm the legitimacy of the advertised positions before making any payments to avoid any potential issues.
Multan Electric Power Company MEPCO Jobs Description
| | |
| --- | --- |
| Posted | 19 July 2023 |
| Domicile | All Pakistan |
| Department | Multan Electric Power Company MEPCO |
| Posts | 3000 |
| Education | Primary to Bachelor |
| Job Type | Full Time |
| Last Date | 18 August 2023 |
Multan Electric Power Company MEPCO Jobs Description
MEPCO Jobs 2023 Positions Details
Electrical Engineer.
Electronics Engineer.
Mechanical Engineer.
Assistant.
Account Officer.
Auditor.
Assistant Account.
SDO.
Senior Clerk.
Lab Assistant.
Line Superintendent.
Meter Reader.
Store Clerk.
Driver.
Peon.
Mali.
MEPCO NTCPK Jobs 2023 Details
All available positions are currently offered on a contract basis, with the possibility of transitioning to permanent roles in accordance with the MEPCO Jobs policy. We take pride in promoting inclusivity, as 5% of these positions are reserved for disabled candidates, who are strongly encouraged to apply.
Applicants have the option to apply for multiple positions, though they need to submit separate fees of Rs. 1040 via an e-challan. To begin the application process, interested and eligible candidates can conveniently apply online at our official website: www.ntpcpk.org.
The deadline for submitting applications is set for August 18, 2023. Don't miss this opportunity to be part of our dynamic team and embark on a rewarding career journey with us. We look forward to receiving your applications!
What is the responsibility of the MEPCO Department?
MEPCO, the vital powerhouse behind Pakistan's electrifying progress, takes charge of electricity distribution and grid maintenance with unrivaled expertise. As the nation's premier authority, MEPCO diligently oversees and regulates the dynamic electricity sector, ensuring a seamless flow of power to every corner of the country.
Our dedicated team at MEPCO Department plays a pivotal role in ensuring uninterrupted electricity supply to homes, businesses, and industries. With a firm commitment to excellence, we strive to keep the electricity grid running efficiently, while promptly addressing any maintenance and repair needs that may arise.
MEPCO Jobs Online Apply 2023 | Multan Electric Power Company| Contact Details
| | |
| --- | --- |
| Mecpo Website | www.mepco.com.pk |
| Contact No | 0800-63726 |
| Address | Mepco Complex , khanawal Rd,Mepco Colony Mepco Colony ,Multan, Punjab , Pakistan |
MEPCO Jobs Online Apply 2023 | Multan Electric Power Company| Contact Details
How To Apply For MEPCO Jobs| www.ntpcpk.org
To apply for Mepco Jobs 2023, visit the NTPCPK website www.ntpcpk.org and download the challan form. Pay the application fee of Rs. 1040 through E-Challan. Submit the challan form along with your application form and other required documents.
The test/exam information will be sent to you via email. You must score a minimum of 50% marks to pass the screening test Mepco Ntpcpk Jobs . No TA/DA will be provided to candidates appearing for the test/interview. The Competent Authority reserves the right to reject any or all applications without assigning any reason.
Address For Submission Of Applications: Waseem Abbas, Project Manager, H Sector, Bahria Enclave, Bahria Town, Islamabad 44000.
MEPCO Jobs Online Apply 2023 | Multan Electric Power Company| Advertisement