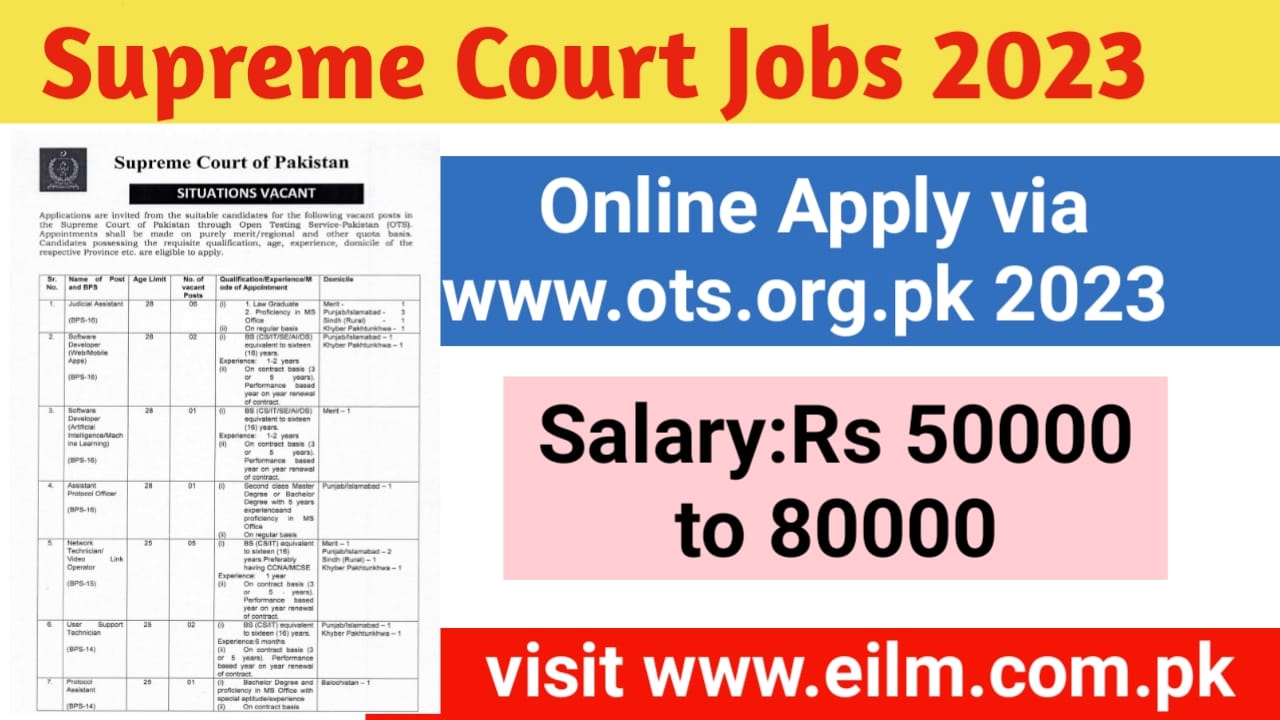 Supreme Court Of Pakistan Jobs 2023- Www.Ots.Org.Pk
Supreme Court Of Pakistan Jobs ,The Supreme Court of Pakistan has recently made an exciting announcement regarding multiple job openings through the Open Testing Service (OTS) website, www.ots.org.pk. These job opportunities are available to candidates from all regions of Pakistan, who can conveniently apply online through the aforementioned website.
The Supreme Court has announced vacancies for various positions, including Judicial Assistant, Assistant Protocol Officer, Network Technician, Protocol Assistant, Stenotypist, Caretaker, LDC, and UDC roles. Candidates holding qualifications ranging from Master's degrees to Matriculation are eligible to apply for these esteemed positions within the Supreme Court.
Moreover, to facilitate applicants, a five-year general age relaxation provision has been granted to all candidates. Interested individuals are required to submit their applications online via the OTS website within a 15-day period from the date of advertisement. This is indeed a wonderful opportunity for aspiring individuals to join the Supreme Court of Pakistan and contribute to the judicial system of the country.
Supreme Court Of Pakistan Jobs Description
| | |
| --- | --- |
| Posted | 5 July 2023 |
| Domicile | Pakistan |
| Department | Supreme Court of Pakistan Jobs |
| Posts | 99 |
| Education | Bachelor, Master, Intermediate, Matric, Primary |
| Job Type | Government Jobs |
| Last Date | 20 July 2023 |
Supreme Court Of Pakistan Jobs Description
How To Apply Online Via Www.Ots.Org.Pk For Supreme Court Of Pakistan Jobs
To apply online for Supreme court of Pakistan all candidates are advised to follow the instructions as explained below
visit open testing service www.ots.org.pk website
Now go to New project section and Click on Supreme court of Pakistan Jobs 2023.
A new window will open where you can check supreme court jobs advertisement and apply link
Click On Apply now button
First sign up for ots account
After sign up now login to your ots account
Provide your personal, educational and experience details to complete your OTS profile
Click on submit now button and download your challan form .
Submit OTS challan fee in any HBL or ABL Bank
For more details visit OTS website www.ots.org.pk for regular updates regarding Supreme court of Pakistan Jobs , Test and Roll no slips updates.
Required Qualification and Age Limit Supreme Court Jobs 2023
SR.NO
POST NAME
AGE LIMIT
NO. OF SEATS
QUALIFICATIONS
DOMICILE
1.
Judicial Assistant
(BPS-16)
28
06
Law Graduate 2. Proficiency in MS Office On a regular basis
Merit – 1 Punjab/Islamabad – 3 Sindh (Rural) – 1
Khyber Pakhtunkhwa – 1
2.
Software Developer
(Web/Mobile Apps)
(BPS 16)
28
02
Law Graduate 2. Proficiency in MS Office On a regular basis
Punjab/Islamabad —1 Khyber Pakhtunkhwa —1
3.
Software Developer
(Artificial
Intelligence/
Machine Learning)
(BPS 16)
28
01
BS (CS/IT/SE/Al/DS) equivalent to sixteen (16) years. Experience: 1-2 years On contract basis (3 or 5 years). Performance-based year-on-year renewal of contract.
Merit — 1
4.
Assistant Protocol
Officer
(BPS-16)
28
01
BS (CS/IT/SE/Al/DS) equivalent to sixteen (16) years. Experience: 1-2 years On contract basis (3 or 5 years). Performance-based year-on-year renewal of contract.
Punjab/Islamabad — 1
5.
Network
Technician/ Video
Link Operator
(BPS-15)
25
05
Second class Master's Degree or Bachelor Degree with 5 years' experience and proficiency in MS Office On regular basis
Merit — 1 Punjab/Islamabad — 2 Sindh (Rural) —1 Khyber Pakhtunkhwa — 1
6.
rt User Support Technician (BPS 14)
25
02
BS (CS/IT) equivalent to sixteen (16) years. Preferably having Experience: CCNA/MCSE 1 year On contract basis (3 or 5 years). Performance-based year-on-year renewal of contract.
Punjab/Islamabad —1 Khyber Pakhtunkhwa — 1
7.
Protocol Assistant
(BPS-14)
25
01
BS (CS/IT) equivalent to sixteen (16) years. Experience: 6 months On contract basis (3 or 5 years). Performance-based year-on-year renewal of contract.
Balochistan — 1
8.
Stenotypist
(BPS-14)
25
10
Intermediate + shorthand speed 80 wpm plus proficiency in MS Office including typing speed 40 wpmOn regular basis
Punjab/Islamabad — 4 Sindh (Rural) —1 (Urban) – 1 Khyber Pakhtunkhwa — 1 Balochistan — 1 Ex-FATA -1 AJK — 1
9.
Caretaker
(BPS-11)
25
01
Bachelor Degree and proficiency in MS Office with special aptitude/ experience On a contract basis
Balochistan — 1
10.
Telephone
Operator
(BPS-9)
25
04
(I) Matriculation and 3 years
experience in the field (ii) On a regular basis
Punjab/Islamabad — 2 Sindh (Rural) — 1 Khyber Pakhtunkhwa — 1
11.
Library Clerk
(BPS-9)
25
01
Intermediate with a certificate in Library Science and proficiency in MS Office including 35 wpm
typing speed regular basis
Khyber Pakhtunkhwa — 1
12.
Transcript Writer
(BPS-9)
25
01
BachelorOne year transcript writing
experience regular basis
Matriculation One year Diploma in IT/ proficiency in MS OfficeUrdu Typing speed 40 wpmPreference for Urdu word processing software on a regular basis
13.
Urdu Typist
(BPS 8)
25
02
Matriculation One year Diploma in IT/ proficiency in MS OfficeUrdu Typing speed 40 wpmPreference for Urdu wordprocessing software on a regular basis shakirjobs.com
Punjab/Islamabad —1 Khyber Pakhtunkhwa — 1
14.
LDPSC
(B -7)
25
15
MatriculationMinimum two-year Electrician Diploma from a recognized
institute 3 years practical experience as Electrician / ElectronicsOn regular basis
Merit —1 Punjab/Islamabad —6 (including 1 for women) Sindh (Rural) — 1 Sindh (Urban) – 1 Khyber Pakhtunkhwa — 1 Balochistan — 2 Ex- FATA -2 AJK — 1
15.
Electrician
(BPS 7)
25
01
MatriculationMinimum two-year Electrician Diploma from a recognized institute 3 years practical experience as Electrician / ElectronicsOn regular basis
Balochistan — 1
16.
Dispatch Rider
(BPS-5)
25
01
Primary PassValid driving license holder and
well-versed in the traffic rules.On regular basis
Balochistan – 1
17.
Naib Qasid
(BPS-2)
25
09
Primary PassOn regular basis
Punjab/Islamabad – 6 including 01 Disable Sindh (Urban) – 1 (Women) Sindh (Rural) – 1 (Women) Khyber Pakhtunkhwa-1
(Women)
18.
Chowkidar
(BPS-2)
25
03
Primary PassOn regular basis
Balochistan — 3
19.
Mali
(BPS-2)
25
01
Primary PassOn regular basis
Balochistan —1
20.
Cleaner
(BPS 2)
25
03
Primary PassOn regular basis
Punjab/Islamabad — 1 Sindh (Rural) — 1 Khyber Pakhtunkhwa —1
Required Qualification and Age Limit Supreme Court Jobs 2023
Required Qualification For Supreme Court Jobs 2023
Primary
Middle
Matric (Science/Arts)
Intermediate (FA/FSC/DAE)
Diploma
Bachelor
Graduation
Law Graduate
Master
Supreme Court Jobs 2023 Vecent Position Details
Judicial Assistant.
Software Developer (Web/Mobile Apps)
Software Developer (Artificial Intelligenc
Machine Learning.
Assistant Protocol Officer.
Network Technician/ Video Link Operator.
RT User Support Technician.
Protocol Assistant
Steno Typist.
• Caretaker.
Telephone Operator.
Library Clerk.
Transcript Writer.
• Urdu Typist.
• LDS
• Electrician
• Dispatch Rider
NaibQasid
Chowkidar
Mali
Cleaner (BPS 2)
Supreme Court Of Pakistan Jobs 2023 Advertisement