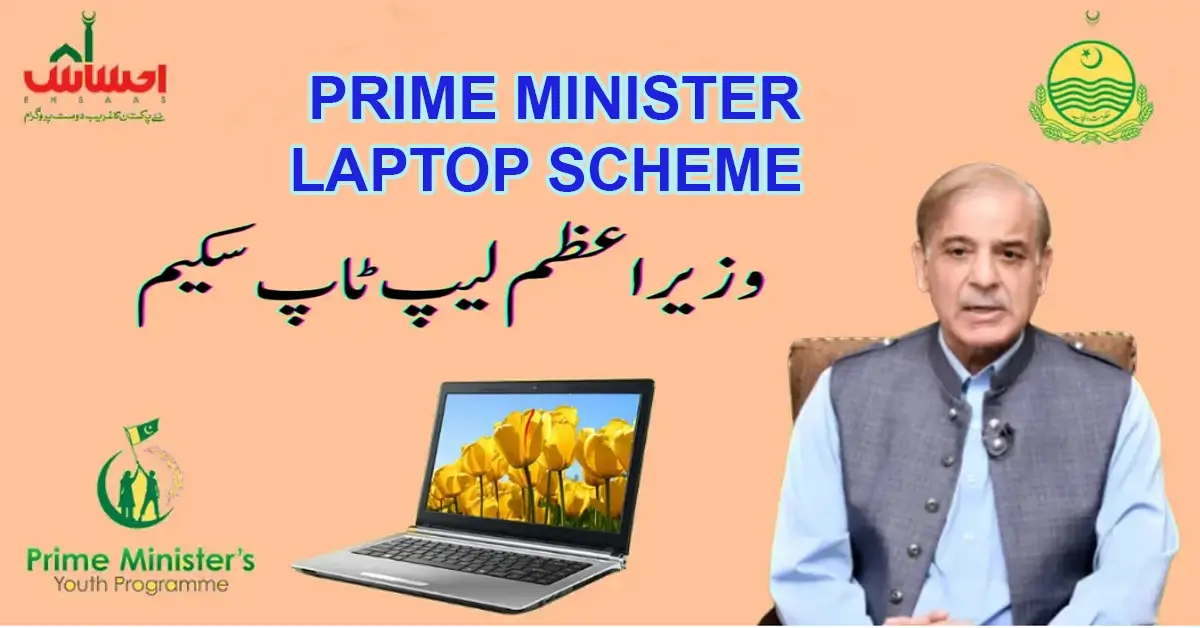 Prime minister laptop scheme 2023 apply online www.pmyp.gov.pk
Prime minister laptop scheme 2023, has been launched/announced once again  by Govt of pakistan for college, university young graduates for their bright future.on friday Shaza Fatima Khawaja (SAPM on Youth Affairs) said that muslim league (N) has started prime minister laptop scheme under Prime minister youth program (PM youth program 2023).
The interested graduates  are invited  to apply online via www.pmyp.gov.pk website.Total 100,000 one lac talented students of all provinces i.e. kpk, punjab, sindh, balochistan etc will get laptop in prime minister laptop scheme .
The graduates from different fields/discipline can apply for laptop scheme 2023 via online www.pmyp.gov.pk. Details regarding merit, eligibility and application submission procedure, downloading form and all about pm youth laptop scheme 2023 can be found easily by visiting official website of pm youth program 2023 online apply www.pmyp.gov.pk. Last date to apply online and online registration for laptop scheme online through www.pmyp.gov.pk is 20th June, 2023.

Prime minister laptop scheme was started previously in 2013 (thousands of talented, poor university graduates are beneficiary) and stopped by the PTI govt in 2018. Now a new initiative by PM Shehbaz Sharif and Shaza Fatima Khawaja (SAPM on Youth Affairs)this internship program has started once again pm youth laptop scheme 2023.For online apply or any query visit pm youth official website www.pmyp.gov.pk .
PM youth laptop scheme 2023 details
| | |
| --- | --- |
| Parameter | Details |
| Published On | May 26, 2023 |
| Last Date | June 20, 2023 |
| Apply Link | www.pmyp.gov.pk |
| Beneficiary students/graduates | Rs. 100k or 100000 or one lac |
PM youth laptop scheme 2023 details
Advantages/Benefits and Objectives of the youth laptop Scheme 2023
The PM Youth Laptop Scheme 2023 is designed to provide free laptops to eligible students and young professionals across the country. By equipping them with the necessary tools and resources, the scheme aims to:
Enhance educational opportunities: Laptops enable students to access a vast array of educational materials, research resources, and online learning platforms. This fosters self-paced learning, critical thinking, and academic excellence.
Promote digital skills: The scheme emphasizes the acquisition of digital skills, including coding, graphic design, and data analysis. These skills are essential in the modern job market, equipping the youth with the tools to excel in a technology-driven world.
Empower entrepreneurship: Laptops provide aspiring entrepreneurs with access to online marketplaces, e-commerce platforms, and business management tools. This facilitates the growth of innovative startups and empowers young individuals to become job creators.
Selection Process and Distribution of Laptops (pm laptop scheme 2023)
The selection process for the PM Youth Laptop Scheme 2023 involves a thorough assessment of the applicants' eligibility criteria and their alignment with the scheme's objectives. A committee of experts reviews the applications and shortlists the most deserving candidates.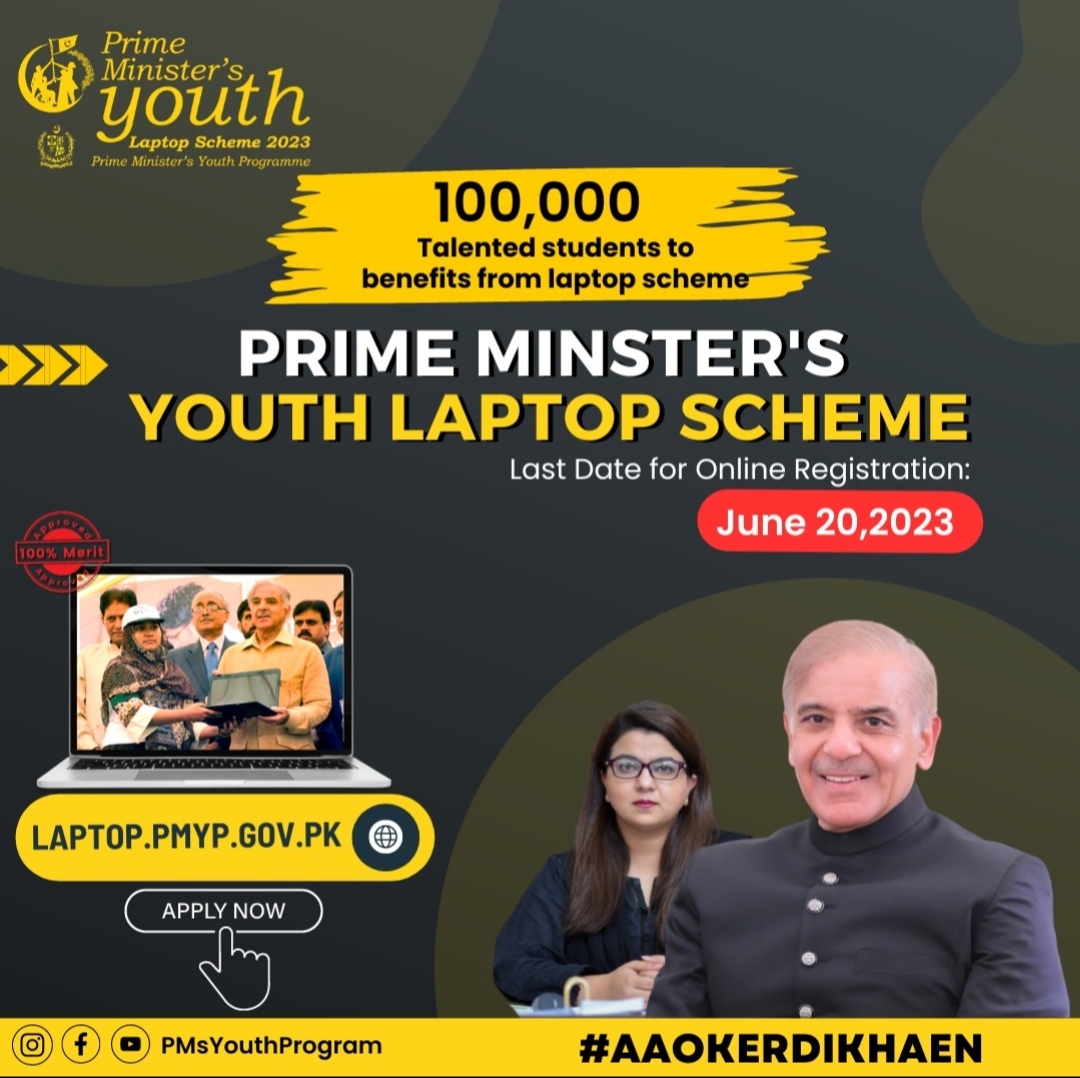 Once selected, the laptops are distributed through a systematic and transparent mechanism. The government collaborates with educational institutions and employers to ensure efficient delivery to the beneficiaries. The laptops come pre-loaded with educational software, productivity tools, and internet connectivity, maximizing their usability and impact.
Eligibility Criteria pm laptop scheme 2023 (www.pmyp.gov.pk )
To ensure fair distribution and maximum impact, the PM Youth Laptop Scheme 2023 has established specific eligibility criteria. The scheme targets:
Students who are enrolled in recognized universities and colleges.
Young professionals in the public and private sectors.
Individuals who have completed their studies and are actively seeking employment.
To be eligible, applicants must meet the predetermined academic requirements and demonstrate financial need. This approach guarantees that the laptops are provided to those who will benefit the most.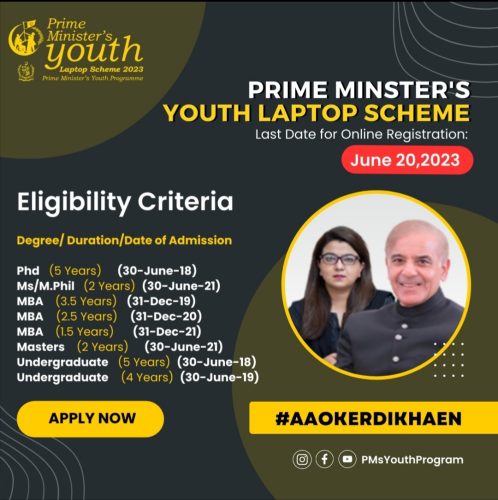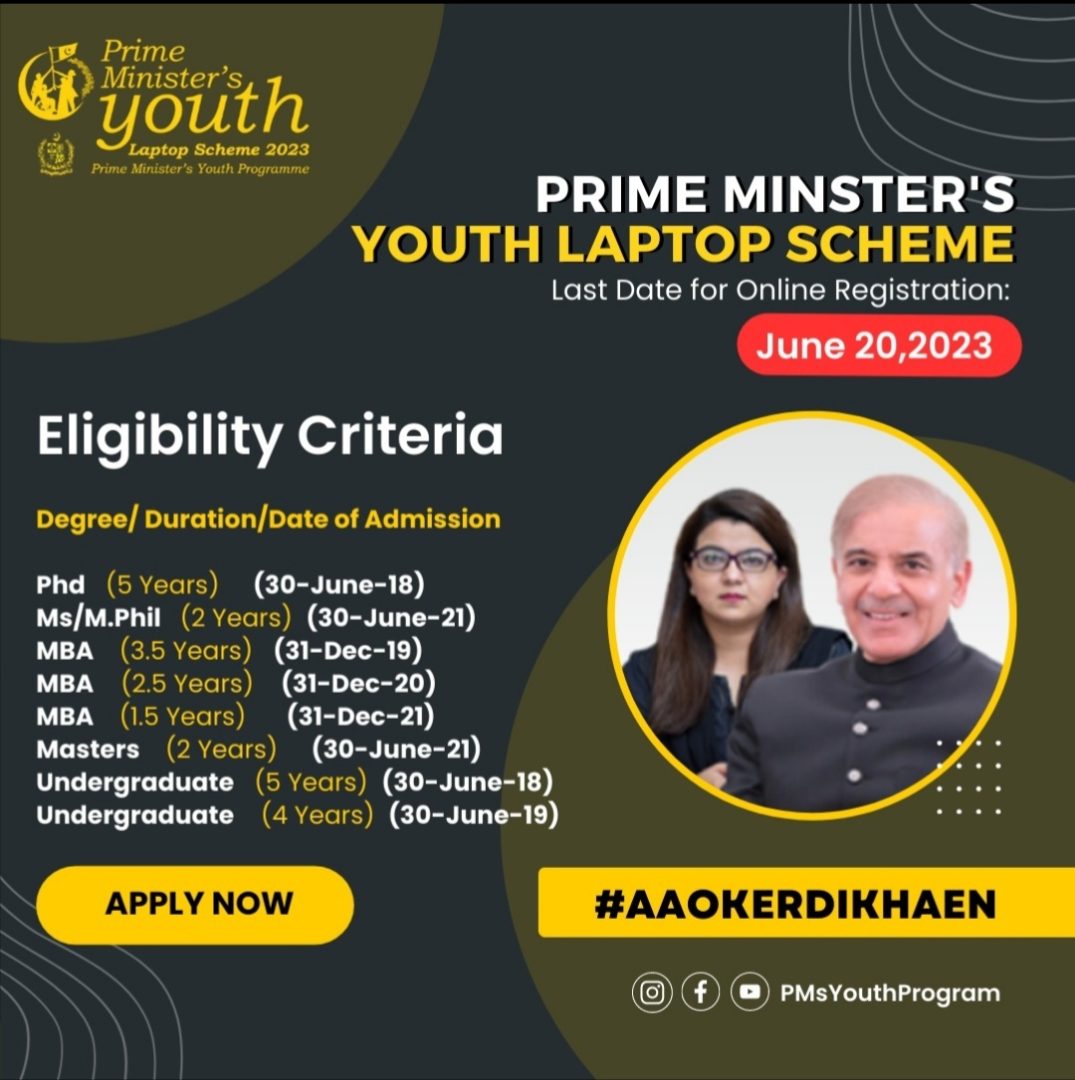 How to Apply online for PM Youth Laptop Scheme 2023 on www.pmyp.gov.pk
The application process for the PM Youth Laptop Scheme 2023 is streamlined and accessible to all potential beneficiaries. Interested individuals can follow these steps:
Visit the official website of the pm youth laptop scheme 2023 i.e. www.pmyp.gov.pk.
Click on PM Youth Laptop program, then click apply now, register yourself by entering your cnic
Create an account and fill out the application form with accurate details i.e. name, f/name, educational details, cnic etc.
Upload the necessary documents, including proof of enrollment or employment.
Submit the application and await the selection process.
Applicants should ensure that all the required information is provided to avoid any delays or complications during the evaluation.
General instruction (PM youth laptop scheme 2023 pmyp.gov.pk)
Once registered, please go to Application Status to view your current application status.
To view the list of eligible universities for PM Laptop Scheme, please click on List of Eligible Universities tab.
To search the name and contact information of your respective university focal person for PM Laptop Scheme, please go to Search Focal person tab.
In order to view the frequently asked questions about PM Laptop Scheme, please go to FAQs tab.
Students must submit his/her own CNIC, mobile number and email address during the registration process, as the provided data will be used for further processing. Submitting incorrect or fallacious data may lead to the cancellation of registration.
Students who are encountering issue in receiving SMS while applying under Prime Minister's Laptop Scheme Phase-VI are advised to register their complaints along with their cell phone number on [email protected]
Point of contact: In case of any query please contact https://onlinehelp.hec.gov.pk Phone : 051-111-119-432 Mobile No : 0334 111 9432
PM youth laptop scheme 2023|FEEDBACK COMPLAINTS Contact No| (laptop.pmyp.gov.pk)
If students have any feedback or complaints regarding the PM youth laptop scheme 2023or their eligibility, they can register their grievances with Grievance Redressal Committees (GRCs) that have been established for this purpose. Alternatively, they may also reach out to the designated University Super Focal persons for assistance.
For further information(PM youth laptop scheme 2023 ) or queries, please contact
Students can also send an email to HEC if any additional information required on ( [email protected] )
Students can complain Online Complaint
Contact No :- 051-111-119-432 / 0334 111 9432
Address : Higher Education Commission , Sector H9 Building Islamabad, Pakistan
Who is eligible for laptop scheme 2023?
       The candidates who fulfill the following criteria are eligible to receive pmyp laptop 203
1.  Students currently enrolled in accredited universities and colleges.
2.Students pursuing Ph.D., MS, MPhil, or any other equivalent 18-year program.
3 Students pursuing a 4-year or 5-year bachelor's degree program.
4.Students pursuing an MBA program, including those in 3.5-year, 2.5-year, and 1.5-year programs   
Could you please tell me which students are eligible for the laptop scheme?
How are the laptops distributed?

The distribution process may differ based on the implementation of the scheme. Generally, laptops are allocated based on the merit of the applicants and the availability of funds. Selected students are notified through the provided contact details and are informed about the collection process, which usually takes place at designated centers.
What are the benefits of the PM Youth Laptop Scheme?

The scheme aims to enhance students' educational experience and provide them with access to digital resources. The laptops enable students to engage in online learning, research, and gain digital literacy skills. Additionally, it helps bridge the digital divide among students from different socioeconomic backgrounds.
Is the PM Youth Laptop Scheme available in all regions?

The availability of the scheme may vary depending on the country and its specific implementation. For details www.laptop.pmym.gov.pk
Who is eligible for laptop scheme 2023?

Pakistani Students enrolled in 2022 and later havinh a valid CNIC/ B-Form number. For detail of pm youth nation program visit www.laptop.pmyp.gov.pk
How i get a laptop by prime minister?