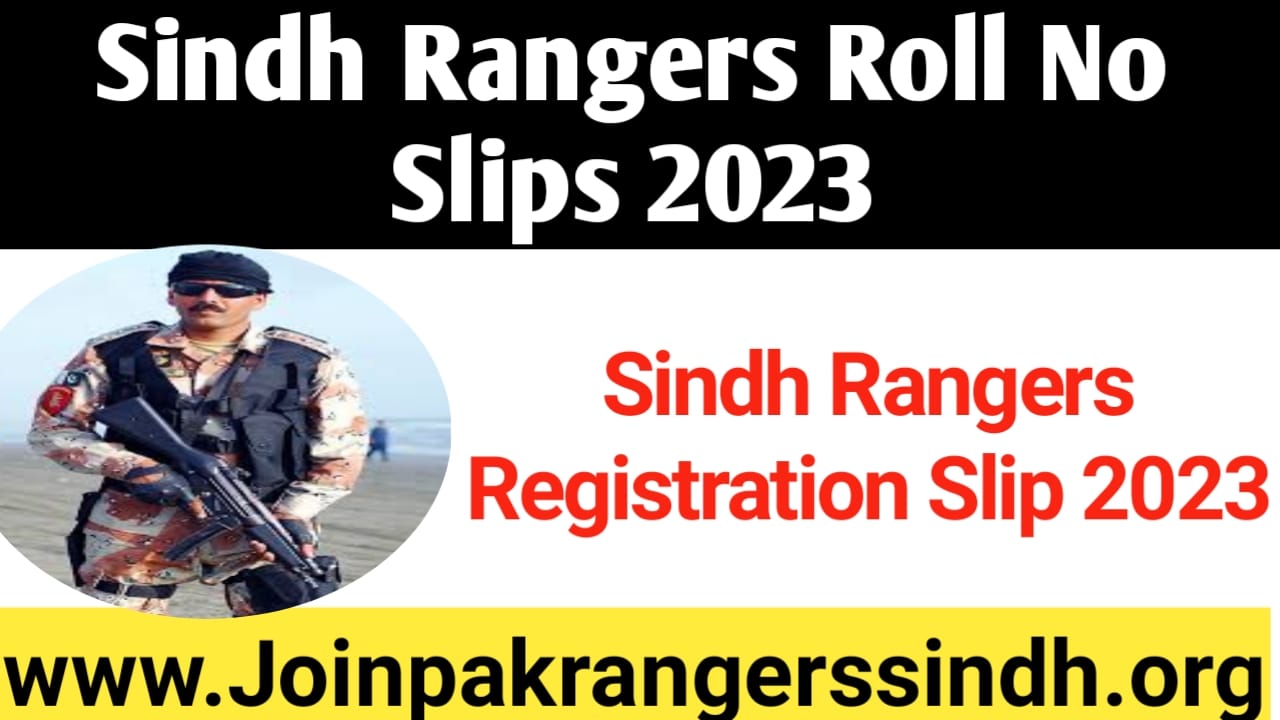 Sindh Rangers Registration Slip 2023
Sindh Rangers Registration Slip ,You can obtain the registration slip for Sindh Rangers' 2023 recruitment through their official website at www.joinpakrangerssindh.org. The online registration for the position of Sipahi General Duty was open until July 2, 2023, but has now closed. To apply and download the registration slip or roll number slip for Sindh Rangers,
Follow the complete method provided here. Applicants who have applied for Sindh Rangers jobs in 2023 can expect to receive their registration slip soon. This is great news for these individuals as the next phase of the recruitment process will begin shortly. Only those applicants shortlisted by Sindh Rangers will be eligible to proceed to the next phase.
The recruitment process for Sindh Rangers consists of a written test, a physical test, and a medical test. Candidates who successfully pass these tests will be allowed to continue further in the recruitment process.
How to Download Sindh Rangers Registration Slip 2023
To download the Sindh Rangers Registration Slip for the 2023 recruitment, follow the step-by-step procedure provided below.
Applicants have to Access the official website of Sindh Rangers by visiting http://www.joinpakrangerssindh.org.
On the website's homepage, locate and click on the registration button.
You will be directed to a registration page where you need to enter your CNIC (Computerized National Identity Card) number accurately.
Once you have entered your CNIC, click on the submit button to proceed.
The system will process your information, and upon successful verification, your Sindh Rangers Registration Slip will be displayed on the screen.
Download the Sindh Rangers registration slip by clicking on the appropriate button or link provided on the website.
Ensure that you save the downloaded registration slip of Sindh Rangers in a secure location on your device for easy access.
Review the registration slip carefully to find the details regarding your assigned Test center, along with the specified date and time for your test.
On the mentioned date and time, make sure to visit your designated Test center, as specified in your registration slip.
How to Download Sindh Rangers Roll No Slip 2023
To obtain the registration slip or roll number slip for Sindh Rangers, simply visit the official website. This slip holds vital details concerning the physical and written test dates.
To download the slip, navigate to the official Sindh Rangers website and enter your CNIC. Locate the registration slip button and click on it to retrieve your roll number slip. Remember to save and download it, and don't forget to bring the registration slip with you to the designated center on the specified date. Prepare yourself adequately for the upcoming phase of the Sindh Rangers test.